A place to come together.
New Albany planners have envisioned an outdoor amphitheater for more than 20 years. In 2012, The New Albany Community Foundation launched an effort to build the amphitheater in the emerging cultural district in the heart of New Albany's historic village center, along the Rose Run Park Corridor and near the Market Street district.  The amphitheater location also is part of the school campus, next to The Jeanne B. McCoy Community Center for the Arts. The amphitheater follows the same public and private collaboration model as The McCoy, which debuted in 2008 and today hosts hundreds of school and community events each year.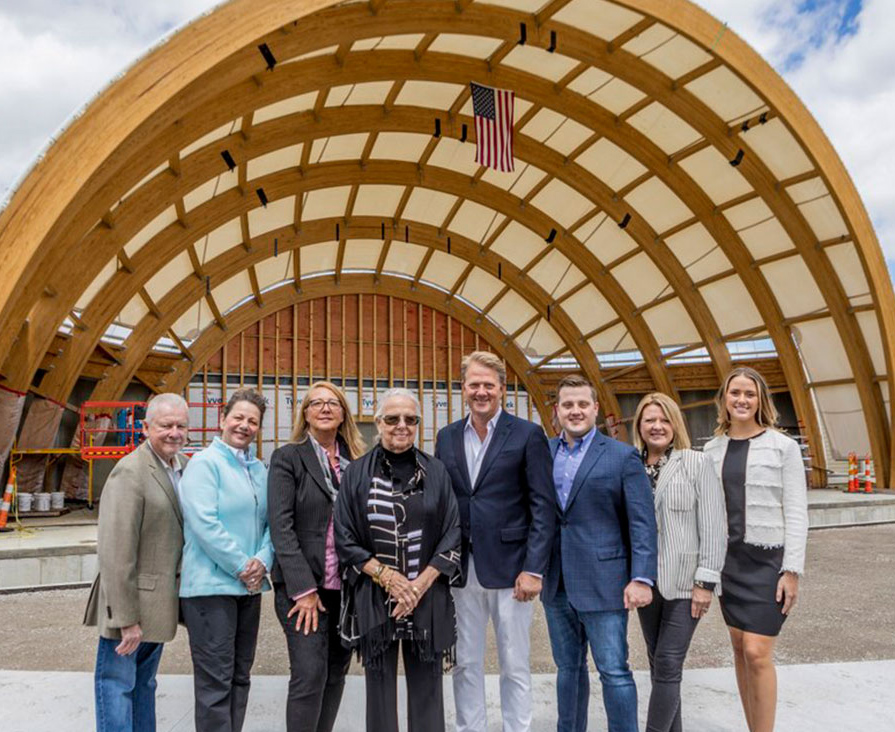 Charleen & Charles Hinson
The Hinson family was inspired by the enriching opportunities that the amphitheater will bring to New Albany and the surrounding community. They were particularly motivated by the fact that resident arts groups, such as the New Albany Symphony Orchestra, New Albany Community Chorus, New Albany Community Band, New Albany Community Playhouse, dance and ballet groups, and many student/school groups will be able to perform outdoors at this high-quality venue.
"New Albany means so much to our family and we are honored to play a small role in bringing this new civic asset to life," said Charleen Hinson. "We cannot wait to see the creative ways in which the amphitheater will be used, not only for the enjoyment of the performing arts, but also for other gatherings that help forge an even stronger community."
TURNING A VISION INTO REALITY
Support & Collaboration
To turn the vision of the amphitheater into a reality, the New Albany Community Foundation benefitted from the generous support and collaboration of many public and private partners. Some of those who went above and beyond to ensure the project's success include the City of New Albany, in particular City Manager Joe Stefanov and his staff; the New Albany-Plain Local School District led by Superintendent Michael Sawyers; and the Plain Township Fire Department led by Chief Jack Rupp. Andy Walther, a professional engineer and accomplished project manager, donated his time and expertise to serve as the owner's representative in honor of his late mother, an ardent patron of The McCoy. Architect Todd Mayer skillfully managed the project for DLF, while Project Engineer Jessica Goodin and Project Superintendent Trey Read managed day-to-day construction on behalf of Corna Kokosing.